Custom rug size - Buy Moroccan Rugs
DISCOVER OUR COLLECTION OF VINTAGE MOROCCAN RUGS,  Our Team of weaving Cooperatives is able to create your own style, and type of Moroccan rugs for your living room.
Our company offers the best style of decorative handmade Moroccan rugs at wholesale price, inspired by the ancient heritage of Berber Amazigh women from the weaving cooperatives area, of the High Atlas of Morocco to its customers all over the world. Each area and tribe has its own art and design, of carpets and color palettes.
Preserving and developing the traditions of Moroccan heritage, is a priority for Moroccan Berber women, who inherited the craft of carpets from their ancestors centuries ago. and tells strange stories about every rug they've made. We supply to major retailers and wholesalers in Europe, the UK-USA. Canada, Malaysia, Japan, Korea, China, Australia, online stores, and art galleries.
Best selling for Moroccan rugs online
You can order a rug directly from Morocco according to your design, size and color,
according to the design of residential, and commercial interiors for your bedroom.
Moroccan Berber rugs for sale-Carpet online wholesale. USA-UK.Custom made Moroccan rug
The best collection of handmade Moroccan rugs for the flooring department — customized by you- Carpets online direct from Morocco, and the beautiful Atlas mountains area. supporting Fair Trade.
If you are thinking of buying a type, or size of Moroccan large rugs, and not near you, and you could not find the right color for you, we are able to meet your request and help you choose the best patterns, and designs for commercial interiors. We have Moroccan weaving cooperatives producing the finest Moroccan traditional carpets. Beni Ourains, Moroccan kilims, Azilal rugs, Boucherouite rugs, and more.
Trusted Wholesale Suppliers of Moroccan carpets, and different modern rugs for indoor-outdoor. Exporter of Moroccan rugs worldwide. UK-USA.
Beni Ourain rug is absolutely known for its comfort, and warmth made and handwoven of natural sheep's 100% wool
The history of the Beni Ourain carpets goes back to the mountainous regions of the Middle Atlas Mountains, the Aït Ouraine tribe,
These rugs are famous for their high quality, high-end style with geometric symbols on a white background. and regular patterns, which give their large size aesthetic, and warmth for the cold nights,
The history of every weaver is told in the lines of these rugs.
They produce the Beni Ourain carpet deep in the Atlas Mountains from an ancient breed of sheep for the quality that makes Beni Ourain so interesting, Our antique rug is handcrafted from these special sheep.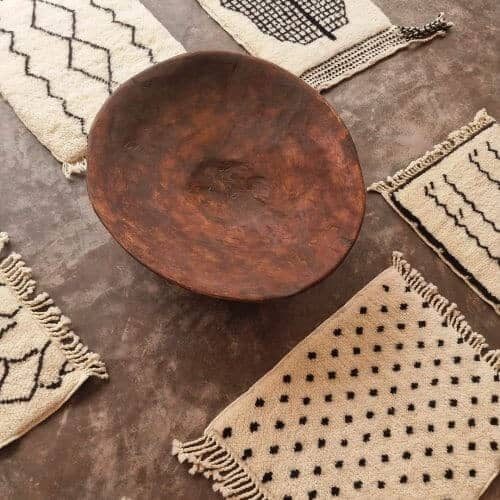 The Moroccan carpet is woven with patience, and a delicate feeling, and a skill that is only unique to the Berber women of the high Atlas Mountains region. In it, they express their authentic Amazigh culture and customs. and they are keen to market them in Morocco. and the world. Spinning and weaving are part of the diaries of every woman in the tribe.
The most famous types of carpets in Morocco, known for their beauty, quality, and bright colors, with tassels, are made from sheep's wool, which is the finest wool in Morocco, it set out in the world of creativity to transform woolen threads into, wall carpets imbued with the meanings of patriotism. and its colors are extracted from natural herbs such as (Saffron, grape leaves, pomegranate bark, walnut bark, henna, kohl…), and others.
Moroccan berber Checkered rug
This Moroccan rug fits all indoor and outdoor styles including traditional ones, used by rural Berber tribes. as heavy blankets against winter in the High Atlas Mountains. Moroccan rug checkered, the unique-of-a-kind piece you can keep things simple. and chic with the Moroccan Berber Black and White Rug, which features a simple checkered pattern.Moroccan rug in white and green has a contemporary bohemian flair with modern patterns and colors. This luxurious piece adds to every room of your home. the perfect complement to Moroccan rural Amazigh décor.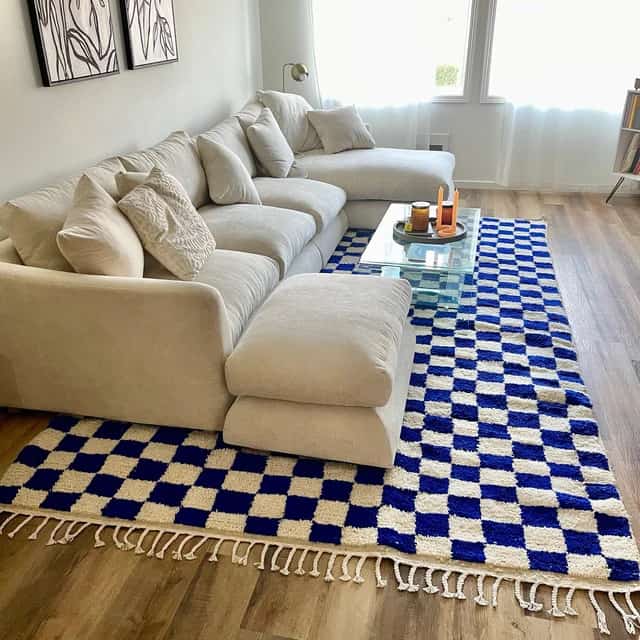 Moroccan carpets.. heritage tales with modern touches by Berber women's hands.​
Whatsapp: +212 660-022477Address:Mohamed Tountni Hay YBT 11, 40000 - Gueliz - MarrakeshEmail: inquiry@berberrugstore.com
[DISPLAY_ULTIMATE_SOCIAL_ICONS]